What Can I Expect at Robinson Family Chiropractic?
Going to the chiropractor is a new experience for many people. Perhaps you've heard about chiropractic through a friend or you've done research online about alternatives to mainstream medicine and you've come across chiropractic. Maybe you're simply fed up with living in pain and have decided it's time to do something about it.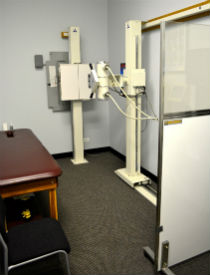 In any case, your first visit to the chiropractor will include:
Getting to know the chiropractor
Discussing your history
Exploring your goals
Understanding your current condition
As with any doctor's visit, you'll start by completing some new patient paperwork. If you like, you can get a jump start on that process by printing and filling out the New Patient Health History form at home and bring it with you to your first visit. Otherwise, we'll provide the form and some time to fill it out once you arrive.
Your First Visit
Upon meeting the doctor, you and he will discuss your concerns and expectations, and you'll have the chance to ask any questions you may have. We will perform a physical examination and most likely take a few X-rays to see what your current state is. From all of this, the chiropractor will have enough information to make a plan of action for your care. "We tell people what they need and then we give them what they want," says Dr. Rick. Once you are completely satisfied with this and are ready to move forward, your care will begin!
Regardless of what brings you in or what care plan you and the doctor agree upon, be assured that on this first visit:
• Your conditions will be fully evaluated
• The chiropractor will let you know whether or not he can help
• You won't have to wait to learn how we can help
• You'll learn whether you can be adjusted immediately, or if there is a reason to wait
• Your questions will be answered
Educating Patients
Quite often you'll leave our office with printed resources or receive verbal education during your visit. This is all in an effort to provide you with as much information as possible and encourage you to be actively involved in your healing and wellness.
From time to time we host workshops on various health and wellness topics. Check back here regularly to see what's new and how you can register to attend.
Ready to feel great? Call today with your questions or to schedule an appointment.
---
Conveniently Serving the Northwest Chicagoland area with Chiropractic Services in Rolling Meadows, IL