Therapeutic Acupuncture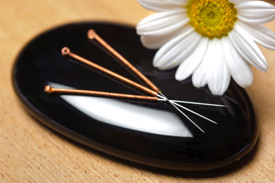 Robinson Family Chiropractic offers therapeutic acupuncture to help you heal and stay well. Acupuncture is an ancient Chinese medicine used to alleviate pain and promote overall health. This practice uses needles placed along invisible meridians which run throughout the body. Today, acupuncturists also incorporate the use of lasers, magnets and electric pulses.
Each meridian point on the body has a specific purpose and can unblock and repair meridians and channels with vital energy or chi. Through the stimulation of specific meridians, an acupuncturist is able to restore a patient's balance and health.
Would you like to learn more about acupuncture? Call today to schedule your appointment.
---
Conveniently Serving the Northwest Chicagoland area with Therapeutic Accupuncture in Rolling Meadows, IL
Robinson Family Chiropractic
2168 Plum Grove Rd
Rolling Meadows
,
IL
60008
Phone: (847) 963-4894