Meet Rolling Meadows Chiropractor, Dr. Richard Robinson
Doctor after doctor told me it was all in my head.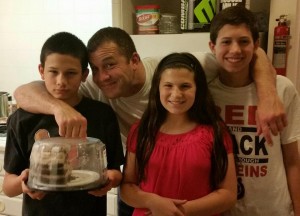 After years of suffering with a neck injury from college football, Dr. Rick saw results he'd not found anywhere else once he began receiving chiropractic care. From here, he set his sights on becoming a chiropractor.
"I wanted to do something in the medical field but I'd seen the direction that drugs and medication were taking and decided that wasn't for me. The results I had received under chiropractic care spoke volumes to me, so that was the direction I headed."
Dr. Rick received his undergraduate degree in kinesiology from the University of Illinois Urbana/Champaign.  With an emphasis in organic and inorganic chemistry, biology, physics and physiology, he went on to attend The National University of Health Sciences in Lombard, IL and graduated with a second bachelor's degree in human biology and a doctorate in chiropractic. His doctoral emphasis was in anatomy, physiology, radiology and neuromusculoskeletal diagnosis.
Active, Involved and Ready to Help
Dr. Rick lives locally and enjoys hanging out with his kids and attending their activities (football, swimming, water polo, wrestling and pom poms). He enjoys sport-shooting, kayaking, mountain biking, and off-roading – anything which allows him to be in the outdoors.
As an athlete himself, Dr. Rick has a strong understanding of the performance and rehabilitation issues important to athletes and other active people. He applies his knowledge to his patients, from toddlers to the elderly, active and inactive.  This is one of the things which sets him apart from other chiropractors.
How can we help you with today's safe and natural chiropractic care? Give us a call to take your first steps toward better health.
---
Robinson Family Chiropractic | (847) 963-4894